GENERAL CARPENTRY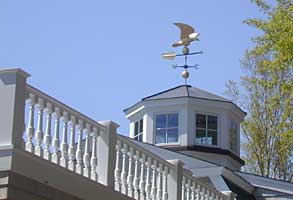 At J.E. Fitzgerald Housesmith Inc., we consider small carpentry and repair jobs to be the core of our business. It's how we got our start. We are happy to continue to provide this valuable service to all our past and future clients. Repair rot on a window? No problem. Add some interior moldings? Sure, we do that. Our house was robbed, and they broke an antique door to get in. I don't want a brand new one. I want my old one back. Is there anything you can do? Absolutely, we can restore that. A few shingles blew off in the big storm. Is there anything you can do? Yes, we'll be right over. It does not matter what your carpentry needs are. We have someone on our experienced team who can help you. We will arrive with all the tools and equipment needed for the job, and assign the tradesman best suited for that particular project. We can take care of any of your project needs. You can be certain that when we leave, your house and yard are as clean and neat as when we arrived.
PORCHES AND DECKS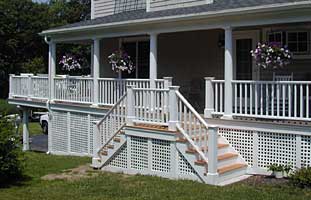 In our opinion, there is no single facet of home remodeling that has seen as much of a transformation as Porches and Decks. What used to be quite a simple construction project, has now become sophisticated and exciting. The longevity of structural lumber and hardware has been greatly improved, but a contractor must have comprehensive knowledge and understanding of how each of these products interact with each other, as well as the relationship with their environment, in order for them to perform successfully. There are a myriad of material choices now for decking and railings. Would you like wood or a composite decking? Do you want to use visible fasteners or hidden? What type of railings would you like to use and what color? All this and we have not even begun to design the deck! You need a Contractor who can show you all the options available, and understands how they will work successfully. J.E. Fitzgerald Housesmith, Inc. is that Contractor.
KITCHEN AND BATHROOM RENOVATIONS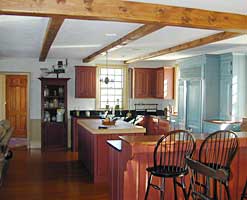 Kitchens are the heart of a home. Any amount of time without your Kitchen or Bath can be a major inconvenience. At J.E. Fitzgerald Housesmith, Inc. we recognize how important it is to get you back into your Kitchen or Bathroom as soon as possible. That is why we will make every effort to assist you early in the planning stages of your project. There are just so many choices when you are remodeling a kitchen or your bathroom. Tile, lighting, appliances, fixtures... the list goes on and on. With our years of experience, we will make sure everything is ready BEFORE we start. In addition to our in-house crew of carpenters, we utilize an excellent group of tradesman as sub contractors to meet the needs of specific services. We have Plumbers, and Electricians, Tile Setters and Painters. We have established relationships with every trade and supplier that may be required to complete your remodeling project. They understand how critical quality and timing is to us and along with our regular crew, are ready, willing and able to do whatever it takes to provide a first class project in the timeliest manner possible.
CABINETRY, MILLWORK AND ARCHITECTURAL LANDSCAPE FEATURES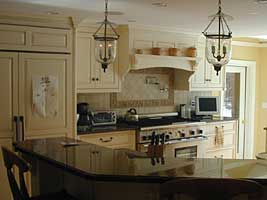 At J.E. Fitzgerald Housesmith, Inc. we have our own complete woodworking shop. We specialize in matching existing cabinetry and moldings, or bring in a concept, and we will help bring it to life! We build custom vanities, kitchens and fireplace mantels. Many of our recent pieces are Media and Entertainment Centers. There are so many details and specifics in today's media requirements that rarely can something be found "out of the box" that will meet all our customers' specific needs.
Lately, we have been creating more and more Architectural Landscape Features in our Shop. We use Extruded PVC products to create custom Pergolas, Trellis and Lattice Panels. Unlike wood, Extruded PVC will not rot, split, cup or craze. In our shop we can create a custom piece, unlike any you will find at the big box or fence store and provide it at a very competitive price.
ADDITIONS AND RENOVATIONS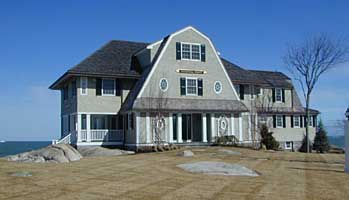 Without question the major portion of our business is the construction of additions and renovations to homes. We are licensed, registered and fully insured for your protection and peace of mind. Whether we are using your plans, or ones we create together, our goal is to provide a seamless renovation or addition using top quality materials with a minimum of disruption to you, the homeowner. At J.E. Fitzgerald Housesmith, Inc. we believe that communication is key to a successful remodeling project. We will discuss all the options available to you during the planning stages. Should changes, or field decisions (It's remodeling - believe me it happens) be required, we will make certain that you understand the issue and discuss all the options and any potential ramifications.
Several of our clients have commented that one of our greatest strengths is our ability to listen to the Customer. We also understand that in many cases we will be sharing your home for several months. We know how important it is that all our employees and sub contractors are neat and personable at all times. The first thing we do, before we even start a project is be certain to isolate the work area and protect any adjoining spaces. The final item on completion is be certain that the whole area is left as clean and neat as we found it!
NEW CONSTRUCTION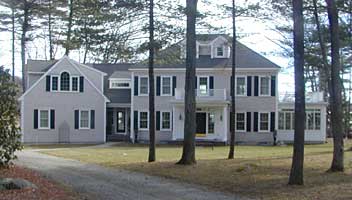 Our capability as Remodelers keeps us quite busy with additions and renovations. Every once in a while, someone will ask "Would you ever build a new house?" Boy would we! We do not do developments, or build on speculation, but we are more than happy to work with you on a Custom Home. Through the years, we have established relationships with Architects and Engineers, Site Contractors and various professions and trades that may be required to bring a project from the conceptual stage through move-in. We work hard to establish an atmosphere of mutual respect with local boards and committees, so that we may help steer your project through the ever increasing regulatory process. We will bring our same eye for quality and attention to detail, that we do to all our remodeling projects, to your new home!
OTHER SERVICES:
Garages and Outbuildings
Project Design
Construction Management
Property Management
Snowplowing and Sanding