J.E. Fitzgerald Housesmith, Inc. is a Remodeling and General Contracting firm based in Norwell, Massachusetts.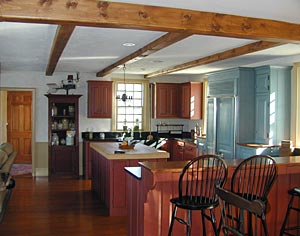 James E. "Jef" Fitzgerald started J.E. Fitzgerald Housesmith, Inc. in 1984. Jef wanted to offer more than just carpentry service to his clients, and as the name "Housesmith" implies, they are ready, willing and able to handle anything you may need around the home. It might be a small repair, a new kitchen or bath, a complete remodel, an addition or a brand new home. J.E. Fitzgerald Housesmith, Inc. can do it, and do it right.
J.E. Fitzgerald Housesmith, Inc. provides start to finish support for your project. Jef's focus is on project design and management. His crew of craftsmen focus on the construction. They have all worked in the construction industry their entire lives. Combined, they bring over 200 years experience in carpentry and remodeling to J.E. Fitzgerald Housesmith, Inc. That's a lot of experience!
At J.E. Fitzgerald Housesmith, Inc. we are committed to providing a quality product. We also realize how important it is that clients receive our full attention. We'll keep you informed about what we are working on each day, and make sure you know what the plans are for tomorrow. At J.E. Fitzgerald Housesmith, Inc. you will never "wonder what happened to the builder."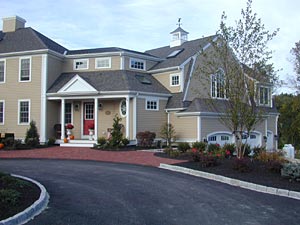 Jef is a licensed Construction Supervisor, and Registered Home Improvement Contractor with the State of Massachusetts. J.E. Fitzgerald Housesmith Inc. is fully insured, including Workers Compensation and Public Liability Insurance. They are accredited members of the Better Business Bureau. Jef has worked hard to create a team of talented and hard working employees, sub contractors and suppliers that you can rely on to provide responsible, reliable, and reasonable service for every facet of your home renovation or new construction project.
Jef is a lifelong resident of Norwell. He believes it is important to give back to your community. He has served on the Board of Directors for the North and South Rivers Watershed Association, and served the Norwell Call Fire Department for 31 years, recently retiring as Deputy Chief of the department. Jef has been appointed to serve on several Boards and Committees for the Town of Norwell. Currently he is serving as Chairman of the Board of Directors for Norwell's Cushing Memorial Hall in Norwell Center.
Construction Supervisors License #008898 • Contractors Registration #100183