Garage and Farmer's Porch Addition - 1997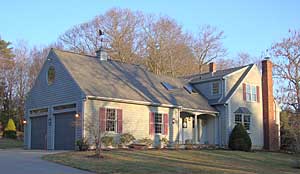 Jef provided both the design and the build for a major new addition to our house, replacing a decrepit detached one-car garage and shed structure on the house with a wonderful new farmer's porch entrance, full bath, laundry room and two-car attached garage with full walk-up loft storage area. We couldn't be more pleased with both the process and the result. Jef's design is a beautiful enhancement to our home, and, to this day, more than a dozen years later, people - even strangers walking on our street - stop to say what a beautiful home we have. During construction, Jef spent an entire morning in the sun and heat testing the "look" of the new roof line against the existing antique Cape house until he had the angle and pitch "just right". His care in ensuring the visual appeal of the entire house and the integration of the new with the old is greatly appreciated. Jef gave us a detailed set of construction plans, and a firm price and construction schedule which he adhered to throughout the project. Any modifications that came up during the construction were negotiated fairly and completely, so that, at the end, there were no surprises - the project came in on budget and on time, and everything was "perfect". Jef is a delight to work with, and he employs some of the most skilled craftsmen in the area. Of particular note is his finish carpentry - after seeing his work on this project, any other contractor's finish carpentry work falls far short. We would strongly recommend Jef and his team to anyone looking for a well-designed, well-managed, beautiful addition to their home.
Charles S. Frary, III and Harriet C. Loring, Norwell
Porch Reconstruction - 2005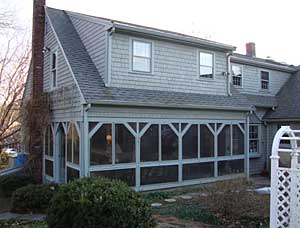 Our house had a large screened porch built using deck construction techniques, but supporting a second story above, and the wood structure and flooring was deteriorating from rot and threatening the whole structure of the house. Jef designed a replacement perimeter foundation structure with a poured concrete floor and all new support for the house above. When completed, we had a beautiful new ceramic tiled floor and, otherwise, it was impossible to discern that "new" construction had occurred. Jef's team had matched the rough lumber appearance of the original porch beams perfectly, so much so that the original storm windows were a perfect fit in the new structure. Jef gave us a firm price quote and project schedule and the project ended on budget and on time. There were absolutely no hassles during the work period - Jef handled all sub-contracting work and scheduling and payments and his employees and "subs" proved to be highly-skilled craftsmen. We couldn't be more pleased with the result and would strongly recommend Jef and his team to anyone looking for worry-free repair work even when old and faulty prior construction must be corrected.
Charles S. Frary, III and Harriet C. Loring, Norwell
Scheller Project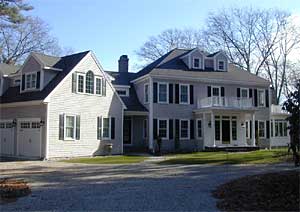 If you can dream it, J.E. Fitzgerald Housesmith Inc. can make it happen. That's what we were quick to find out when we started our project.
In 2005 we moved our family of five back to Norwell, with plans to purchase the home and land that my husband had been raised in. It was a large scope project. It soon became clear that gentrifying the original home, built in 1948 would prove too costly, so our plans were to live in it until we could construct our new home to be built just six feet away. From the beginning, we needed to get the existing house ready to accommodate a family of five while we completed the new project. We'd need plans for our new home which, due to the location would require approvals from The North River Commission, the Conservation Commission, and the Zoning Board of Appeals. A new septic system would need to be designed and, having relied on well water for all those years it was immediately obvious that we would need to bring in town water. Lastly, once the new house was finally built we need arraignments to have the old house come down. The logistics would make anyone's mind reel. Jef was in charge of the entire process and delivered it all in a timely and cost effective manner.
Hiring Jef Fitzgerald as designer/builder/contractor was the easiest decision we have ever made. He was quickly able to take our wish list for a new home and turn it in to working plans. Jef's vast experience appearing before the various boards and commissions and understanding their requirements made quick work of the approval process. Once ground was broken, the building process went smoothly from start to finish. There wasn't anything that came up that Jef was not able to handle. Being able to rely on his 30 years of experience gave us peace of mind throughout a very daunting process. We found him extremely collaborative and easy to work with. It felt great to have him in our corner. Now, living in the home we'd always hoped for, it's safe to say we'd recommend J.E. Fitzgerald Housesmith without any reservation. We consider ourselves fortunate to have had him head up our project
Doug and Sue Scheller, Old Meeting House Lane, Norwell
Kellaway Project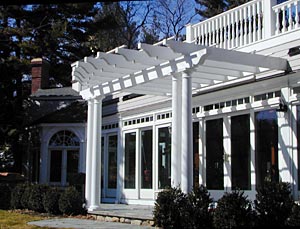 When we purchased our home on the North River, we knew we had a significant renovation project on our hands to add new space, and bring the existing home up to date and make it special for us. Jef and his team came highly recommended to us by friends who had done significant renovation projects in the past. We completed our project in phases that extended out over a three year period. For over half that time, we lived in our home during the construction. The Fitzgerald crew was outstanding in all aspects, from providing quality work to their level of professionalism and the courteous manner they showed as we carried out our daily routine during the renovations. After a long journey, the end result is fantastic! Perhaps even more important, Jef continues to be there for us to support and needs and requests we have going forward. We always recommend J.E. Fitzgerald Housesmith, Inc to our friends and neighbors.
Ken and Susan Kellaway, Bridge Street, Norwell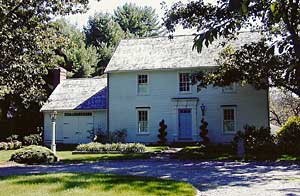 Clark Project
After two failed attempts with architects to design a total remodel of our home on the North River, Jef listened to our thoughts, ideas and vision before adding his years of practical experience to our project. As a team we were able to design and build the home of our dreams. His attention to quality and detail is evident in every aspect of his workmanship. Jef and his crew were extremely talented and a pleasure to work with during our year long project
Alex and Davis Clark, Bridge Street, Norwell
Sandberg Project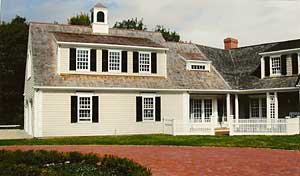 Excellent craftsmanship, reliability and integrity characterize a relationship with Jef that has been going on over 10 years now. Jef did a major kitchen/family room renovation in 1999 which involved bumping out our kitchen wall 2 feet. He did a large in-home office renovation after that, and most recently installed new windows throughout the house. Jef's crew is mature, neat and above all, they are master craftsmen. They know what they are doing! Jef is a man of his word, and always makes sure we are satisfied. We couldn't ask for more!
Sandy and Jean Sanberg, Lincoln Street, Norwell
Pollard Project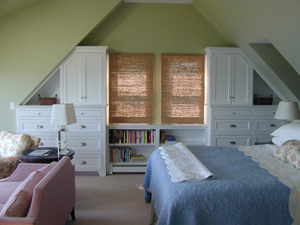 Jef renovated a large portion of our 80 year old home. He has the rare ability to analyze space and create a design which optimizes both function and beauty. He does exceedingly high quality work. I am an extremely demanding client and I found Jef incredibly easy to work with. Despite living in another part of the country during the renovation and only visiting once a month, Jef kept me informed through e-mails and phone calls. I also greatly appreciate his ability to interface with my interior decorator so seamlessly. I feel very fortunate to have Jef as my contractor and am looking forward to having him redesign and renovate my kitchen.
Lynna Pollard, Crescent Ave., Scituate
Emmons Project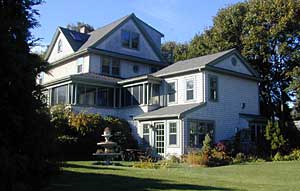 I stumbled on to Jef somewhat by accident. He was a neighbor and I needed a small project done. Over the next 15 years we have done 5 large projects together, generally total rehabs. He has an excellent crew, but most important, he listens. He pays attention to what you want, offers good advice, and wonder of all wonders; he makes sure his crews clean up every night. Having lived in some of my projects during construction, he is a great contractor. I have moved from the area and can't seem to convince Jef to uproot his family and come along. I miss his easy attitude and willingness to change plans mid project, but most of all, I miss his understanding of how I like a project done. That makes a huge difference. I would recommend Jef for any job, big or small. He has ruined me for other Contractors!
Meredith Emmons, St. Croix, VI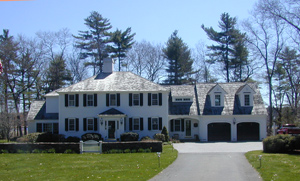 Ankner Project
My experience with Jef Fitzgerald involved a complete renovation and expansion of my home. Jef is a pleasure to work with, as are all the guys that work with him. They completed a huge project in my home, did a fabulous job, and were always easy to have around. They are efficient, hardworking and discreet. They were able to complete a major renovation with a minimum amount of disruption.
Joan Ankner, Arrowhead Drive, Norwell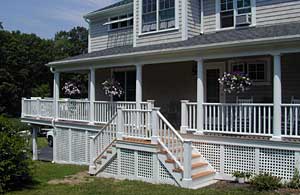 Graham Project
We have used J.E. Fitzgerald Housesmith, Inc. for three major home renovations in Cohasset over the past eight years and have found their work exemplary. Their use of the finest materials, expert craftsmanship and attention to detail produce an outstanding home each time. It is always a pleasure working with Jef and his entire crew.
Jay and Carol Graham, Parker Avenue, Cohasset
Devlin Project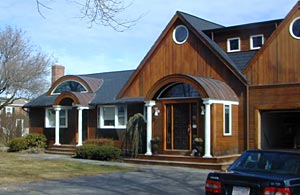 We could not be more pleased with Jef Fitzgerald of J.E. Fitzgerald Housesmith, Inc. and his crew. Their work on our home over the past several years has consistently been done to the highest standards. Every detail of our renovation was completed to perfection. Jef (and his crew) took our old front-to-back split and transformed it in to the dramatic contemporary home we had dreamed of. We really appreciated the way Jef worked with us to be certain that our end result was not only what we envisioned, but also the best quality and as cost effective as possible. We would highly recommend Jef and his company, and continue to refer him to our friends and colleagues.
Paul and Myla Devlin, Scituate
Spradlin Project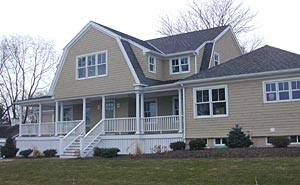 We have been utilizing the services of J.E. Fitzgerald Housesmith, Inc. since the company was established 26 years ago. Since that time, the projects contracted have included minor repairs and an addition to our antique home. Recently they completed a brand new 4500 square foot custom built home for us in Scituate, MA where Jef incorporated the open-living concept with the warmth of the traditional home.
If there are certain key phrases that describe the experience of working with this company they are: "high quality workmanship", "attention to detail", innovative solutions to problems", "vision and creativity" and "organizational integrity". Most importantly, Jefís honesty and attentive ear to the customer results in an over-all business experience that diminishes the stress that often accompanies residential construction.
We love our new home, and all those who enter notice the essence of quality throughout. Itís like a Fitzgerald Trademark.
Don and Elizabeth Spradlin, Scituate